Project X Zone is a turn based strategy game from Namco Bandai, available exclusively for the 3DS. It features characters from Capcom, Sega, and Namco Bandai franchises in a gigantic crossover story, spanning several dimensions and time periods. While this certainly isn't a game for everyone, it should prove to be a lot of fun for you if you're a strategy fan, or are in to any of the game's wide array of characters and franchises.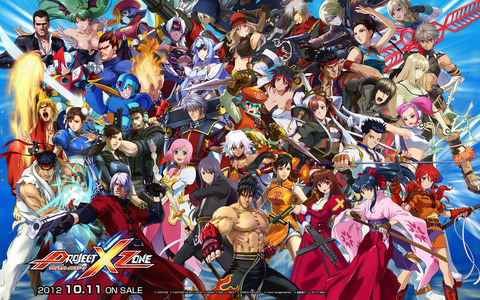 Where's Waldo?
The Good: Project X Zone is presented extremely well.  The sprite graphics are slick and polished, and combat animations and combos are smooth and fun to perform, and the battle's manage to be both simple and complex at the same time. The game's turn based strategy system makes sure of the fact that there's never a dull moment – you have to put thought in to your every action, and the results can really go down to the wire, with your team either losing by a small margin or just squeaking by. It's kind of like playing a form of chess, only with Shoryuken Uppercuts and Arm Cannons.
The game's story is extremely long as it should be, what with it being the only mode. Suffice to say, you will definitely be spending a lot of time with the game if you wish to beat it.
Chaos is Fun!
The Bad:While the game's dialogue is voiced, it unfortunately isn't available in English. While this isn't that big of a deal, I do wish that there were an option to remove voice over completely, as opposed to a mandatory Japanese track. The text translations can also be rough on rare occasions, but it's never anything you can't paraphrase on your own.
While the game is repetitive in nature, and can start to get old after hours of play, the battle system is ultimately fresh and strategical enough that it doesn't prove to be that much of a problem.
Everyone's got a favorite. Mine? Frank West, the zombie smashing photographer from Dead Rising.
The Ugly: The Story, while generally not that hard to follow, isn't exactly great. There are always going to be a lot of plot holes and unanswered questions in gigantic crossovers, and this one is no exception. Most players will also be unfamiliar with some of the roster, as well. While there are a lot of headliners here, there are a good deal of obscure characters as well. More often that not, the stories explanations of who these characters are leave a lot to be desired. Thankfully, a little research with the in game encyclopedia goes a long way, and will save you the trouble of looking up those you're unfamiliar of.
Go Go Power Rangers!
If turn based strategy is your bag, this one definitely won't disappoint. It's a worthy addition to any 3DS library, as well as a great homage to all the franchises and characters involved, and definitely deserves to be checked out. Hopefully it paves the way for more crossover strategies to come, with even more characters and franchises getting thrown into the mix.